Engaged/Married
Engagement Date:Saturday, September 8 2018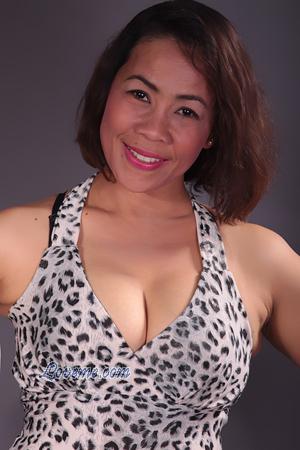 139878
Yeyet
Philippines
City: Davao City
Age: 41
Weight: 121lb, 55kg
Height: 5'3", 160cm
Measurements: 36-26-36
Measurements cm: 91-66-91
Eye Color: Black
Hair Color: Black
Marital Status: Single
Children: 0
Religion: Christian (Catholic)
Smoker: N
Drinker: N
Education: College
Company: Private
Job Title: Receptionist
Sports: Badminton, volleyball, table tennis
Hobbies: Singing, dancing, reading


Self Description: I am a soulful, passionate woman looking for my soul mate. I am seeking for my soul mate (who isn't?) we all have purpose, our lives exist within the web of life, beautifully entwined are the edges of each otherís tapestries. All of us strive to take every step with respect and humility. And I believe I do it daily. I am not perfect. I am constantly learning, every day is a new sunrise that holds hope. I think outside the box and I always have new ideas that I share with my loved ones. So, are you ready to experience a truly intimate enriching companionship, new adventures and discover yourself while we grow together? Iím not looking for someone perfect, but one whoís warm, true, has some spiritual inclination. Feel free to message me and letís start our journey! :)

Comments: The man of my dreams must be genuine, generous, and spiritual/believes in God; sophisticated, likes smart conversations, family-oriented, gentleman per instinct, wants children, clean/tidy. I also love creativity and passion. I love funny guys who can hold me spellbound with a story or make me laugh until I cry. Someone who can diplomatically assert himself and is comfortable being in a serious relationship. If any of this has interested you or you would like to know more, then I would love to hear from you right away...
AFA News and Updates
For those of you interested in a tour that is "off the beaten track" check out the upcoming tour this April 11th to Dnipro and Zaporozhey This is the first time we have ever done a tour to these two cites together and the only time we will be visiting either of these cities this year!
Now when you add more than $50.00 at a time to your account you will instantly earn a credit of up to 10 percent of whatever amount you added, plus up to a $100.00 credit towards a full Singles Tour each time you add funds!
AFA Tour Seminars - We Want to Meet You in Person! Multiple new destinations from Pheonix AZ to Orlando Fl. Valuable seminar only tour discounts, meet international dating experts, past successful tour clients, and much more! RSVP Today!