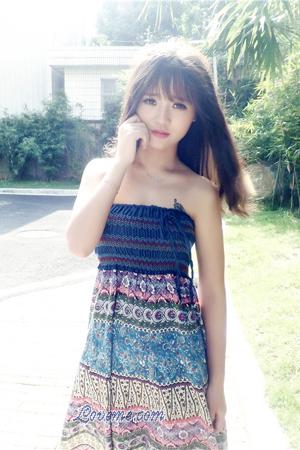 ID: 167684
Xiaoming
China
City:
Changsha
Age:
21
Birth Date:
2/1/1997
Zodiac:
Aquarius
,
Mouse
Weight:
106lb, 48kg
Height:
5'8", 173cm
Eye Color:
Black
Hair Color:
Black
Marital Status:
Single
Children:
None
Religion:
None/Agnostic
Smoker:
No
Drinker:
No
Education:
College
Company:
Private
Job Title:
Nurse
Sports:
Yoga,jogging
Hobbies:
Shopping,traveling,photograph
Languages:
Chinese (native)
Self Description: There is no denying that I am still young. I am a young girl. There is always someone who asked me if I was joking. I don't want to explain. But in the face of love everyone has the right to choose a lover, regardless of age, background, status, and so on. I am a girl who loves to laugh, the pursuit of freedom, romance and hot love, my age is just a record of how many days I have lived on the earth, but my belief in love and desire is far beyond my age limit. I like to be protected, the feeling of love, is not similar to my father's love also means sugar daddy,Ooops,my farther loves me,so I donít need .I hate cheating, because I was cheated by some guy, so I do not want to dating with a liar. I am not sure what will happen in the future, if you really love me, I will spare no effort to please you, to bring you happiness. So if you are attracted to me,let me know,ok?
Comments: I hope he is caring,responsible,open-minded,positive.